Financial Market Development
Financial markets companies have faced some of the biggest challenges in the past: fee compression, lower client switching calls, complete electronification of markets and technology disruption. But they are adopting some of the most significant opportunities with the emergence of technology: high-speed processing and advanced technologies, including machine learning and AI.

Financial Markets and AI
Since financial market firms are working on digitizing and innovating to drive growth and operational efficiencies, they create a next-generation customer experience and strive for asset sharing. AI implementation helps organizations remodel their operations by speeding up their initiatives and using their data to offer bottom-line results that help them not just to stay ahead but win
Driving operational efficiency
Identify the fund net flow
Improve routing and trade execution for cost optimization
Make predictions about customer profitability
Bring down the middle and back-office cost from error correction and process failures
Identify channel effectiveness
Exceeding Client Expectations
Enhance new customer acquisition strategies
Strengthen client relationships
Increase wallet share
Understand client churn risk
Identify appropriate product offers
Risk Exposure
Track trading and communication
Discover and prevent wire fraud and account takeover
Diagnose and prevent cyber threats
Identify risk for outlooks and ratings
Keep an eye on communication and trading
"Financial Markets will be the second largest industry with $5.6 billion going toward AI-enabled solutions including automated threat intelligence & prevention systems and fraud analysis & investigation systems in 2021."
International Data Corporation
Use Cases of Financial Markets
Marketing and Cross-Selling
Marketing campaigns customized for the financial firms' markets improve response rates and maximize ROI. AI and ML models identify clients who often respond, along with the best offers. AI facilitates new cross-sell and upsell and customer acquisition programs to offer higher success rates.
Asset Management
Financial firms have to optimize their portfolio to achieve success. Deploying the predictive models, fund managers can identify changes in cash flow that can impact liquidity. As AI-based models enhance with time, firms' portfolios' performance is becoming a differentiator.
Fraud and Financial Crimes
AI helps identify suspicious activities to fight against financial crime. Also, it becomes possible to enable investigations to take place before a loss occurs. With machine learning, financial crimes can learn from incurred losses and investigational findings to find activities like wire fraud or account takeovers while handling communication surveillance and effective trade
Trading Operations
With historical transaction cost analysis and execution data, traders can develop models that optimize trade execution techniques and offer routing. Also, AI-based models support trader decision-making and help reduce cost and market impact while ensuring the trader's compliance with regulatory requirements.
Our Work in Financial Market Development
HashLend: An application for Peer to Peer Lending, on the top of Hedera Hashgraph Platform
LeewayHertz has successfully developed HashLend, an application for Peer to Peer Lending on the Hedera Hashgraph platform. HashLend is a scalable and robust application that enables borrowers and lenders to connect directly without the involvement of middlemen or intermediaries
LeewayHertz was flexible in adding smaller features along the way. We found something that might be useful to add to the app, and they responded and acted quickly. Their process worked well.
Leewayhertz knows its craft and the teams are experts at iPhone and Android app development. They're highly focused and they delivered what they proposed.
Dedicated Development Team
Our blockchain developers are hands-on the cognitive technologies to deliver high-quality services and solutions to clients.
Team Extension
Our team extension model is intended to help clients who want to extend their team with the right expertise required for their project.
Project-based Model
Our project-based model and software development specialists are there for customer collaboration and specific client project engagement.
1. Contact Us
Fill out the contact form protected by NDA, book a calendar and schedule a Zoom Meeting with our experts.
2. Get a Consultation
Get on a call with our team to know the feasibility of your project idea.
3. Get a Cost Estimate
Based on the project requirements, we share a project proposal with budget and timeline estimates.
4. Project Kickoff
Once the project is signed, we bring together a team from a range of disciplines to kick start your project.
Start a conversation by filling the form
Once you let us know your requirement, our technical expert will schedule a call and discuss your idea in detail post sign of an NDA.
All information will be kept confidential.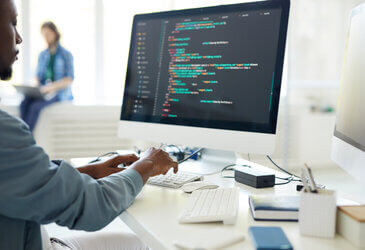 Serverless Architecture is a software design model where a third-party service hosts applications and removes the need for server hardware and software management.
read more