WhiteLabel Crypto Exchange
Start your own crypto trading platform with our whitelabel crypto-exchange solution. Our platform offers decentralized trading with advanced security features, such as two-factor authentication and multi-signature wallets, to provide your users with a secure trading experience.



Get Your Own Crypto Exchange Platform
Our whitelabel crypto exchange solution uses cutting-edge technologies for rapid customization. We integrate unique features like security widgets, multi-signature wallets, a robust risk control framework, and an affiliate system into your crypto exchange platform to enhance its efficiency and credibility. Launch your crypto-exchange platform with our whitelabel crypto-exchange solution and own its IP rights.
Key Features of Our Whitelabel Crypto Exchange Solution
AMM for High Liquidity
Automated Market Maker (AMM) guarantees liquidity for your decentralized exchange by automatically executing trades via liquidity pools.
Smart Contract for P2P Trade
Highly secure, reliable and upgradeable smart contracts based on the current web3 standards to facilitate P2P trading without any intermediaries.
Enterprise-Grade Security Integration
We integrate enterprise-grade security into your crypto exchange platform to provide users with a safe and seamless trading environment.
EVM Compatibility
An EVM-compatible crypto exchange solution for you to easily migrate smart contracts to other EVM-supported chains without writing the smart contract codes from scratch.
Two-factor Authentication
Different types of two-factor authentication, like SMS, software-based, hardware-based, and biometric, enhance the security of users' transactions and data.
Exchange Platform Admin Panel
A comprehensive dashboard for the platform's admin panel to facilitate tracking all the trading and business activities being conducted on the crypto exchange platform.
How Does Our Whitelabel Crypto-Exchange Solution Work?
1. Users select an exchange pair, such as fiat to crypto, crypto to fiat or crypto to crypto.
2. Confirm their details by making a deposit.
3. Receive their fiat currency/cryptocurrency in their digital wallets.
Why Launch Your Crypto Exchange Platform?
Mass Adoption of Crypto
Like fiat currency exchanges, the mass adoption of decentralized exchange increases crypto liquidity, supporting mainstream crypto adoption.
Profitable Coexistence
Blockchain ecosystems require crypto exchange platforms to coexist and adapt to evolving market demands.
New Projects
Exchange platforms encourage new cryptocurrency projects in order to expand their marketplaces.
Exchange
Users can easily initiate the exchange process with one click while looking at the data, like the conversion rate for the chosen pair of exchanges.
Market Insight
Users can view the entire market insights from a single dashboard and know about the popular tokens, total value locked, exchange pairs, etc.
Pool
Users can analyze the pool value, fees, volumes and returns for exchanging any selected pair of tokens. The pool composition will highlight the contribution of each token involved in the pair.
Bridge
Users can seamlessly build bridges to initiate swaps on the exchange platform by selecting the target and source chains, a destination address, the amount and the token.
Once you let us know your requirement, our technical expert will schedule a call and discuss your idea in detail post sign of an NDA.
All information will be kept confidential.
What is a white label crypto exchange?
A white label crypto exchange is a software solution that allows businesses to launch their own crypto exchange under their own branding and customization. The software is pre-built and can be easily customized to meet the specific needs of the business.
How does a white label crypto exchange work?
A white label crypto exchange works by providing businesses with a pre-built software solution that they can customize to meet their specific needs. The software includes a range of features such as multi-currency support, user-friendly interface, security, liquidity, payment gateway integration, customer support, and compliance with regulations and laws.
What are the benefits of a white label crypto exchange?
The benefits of a white label crypto exchange include cost-effectiveness, customization, faster time-to-market, and the ability to enter the cryptocurrency market without the need for extensive technical expertise.
What cryptocurrencies can be supported by a white label crypto exchange?
A white label crypto exchange can support a wide range of cryptocurrencies, including Bitcoin, Ethereum, Litecoin, and others.
What security features are included in a white label crypto exchange?
A white label crypto exchange includes a range of security features such as multi-factor authentication, encryption, and regular security audits and updates to ensure the platform is secure against the latest threats.
Can a white label crypto exchange be integrated with payment gateways?
Yes, a white label crypto exchange can be integrated with a range of payment gateways to allow users to fund their accounts using fiat currencies such as credit card payments, bank transfers, and other payment methods.
Why choose LeewayHertz as your white label crypto exchange development company?
LeewayHertz is a trusted and experienced white label crypto exchange development company that offers customized solutions, prioritizes security and compliance, provides 24/7 customer support, and delivers cost-effective services for businesses looking to enter the cryptocurrency market.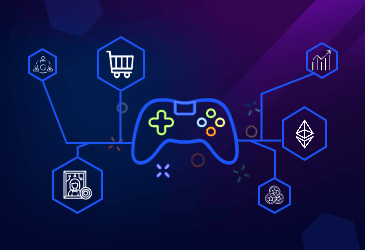 The core idea of web3 in gaming is decentralization. By incorporating blockchain technology, web3 games are all set to redefine gaming.
read more