Retail Software Development
Developing end-to-end retail software solutions that provide increased operational efficiency, empowered consumer experience and product demand forecasting.

Harnessing the Power of Emerging Technologies to Develop Innovative Retail Software
The empowered consumer is more informed and connected and expect from retailers to understand their fast-changing shopping habits. Therefore, retailers need to identify opportunities for reducing costs, improving operational efficiencies and providing a frictionless customer experience. Using AI and IoT, we leverage your data about customers to understand how customers' needs have emerged with time and how your organization can adjust to a growing marketplace.
Operational Efficiency
Reduce time to deliver the shipment
Anticipate staffing levels to fulfill orders and provide better customer service
Monitor store foot traffic to predict staff resources required for any specific trading day with IoT cameras
Identify best sites to open, close, expand or reduce stores based on strategic goals without a reduction in the sales of existing store
Empowered Consumer
Using reviews data and surveys, identify sentiment for the whole customer base
Identify the most effective product to offer to each customer and influence their purchasing decisions based on historical data
Evaluate the value of the conversion across all digital channels to understand that digital marketing spend is being used in the right direction
Identify the number of days to next order with previous purchase history
Product Assortment and Supply
Identify the best promotion technique and the best SKUs to obtain targeted volume or revenue
Identify the probability of return for every item bought through all digital channels
Identify the level of future demand with a range of historical data sources
Identify optimal price points based on multiple factors, including item, sub-category, location and product affinity
"25% of manufacturers will innovate their service execution by implementing AI in automated decision-making and self-healing assets by 2022."
Our Retail Software Development Services
Custom Retail Solutions
We build custom retail software, tailored to specific business requirements. Our team also provides retail consulting services and identify the right technology that can drive growth to your retail business.
E-commerce Solutions
We provide end-to-end eCommerce solution development services that increase customer engagement, provide advanced analytics for decision-making and includes seamless payment options.
Smart Inventory Management
We develop intelligent inventory management software using AI and IoT that tracks available items in inventory and predicts the demand for a specific unit based on the customers' behavior.
Voice Assistants
Our developers can develop AI-based voice assistants for retail stores that help customers at self-checkouts, trial rooms and shelves get information about products they want to buy.
IoT enabled Asset Management
We develop IoT-enabled security cameras that help in managing assets present in the retail store. It monitors and tracks products available in the store and notifies owners if somebody tries to steal any item from shelves.
Customer Engagement System
We build customer engagement system for retail businesses that fetches data from multiple sources using AI and delivers a personalized experience to customers.
Integrate Third-party Delivery App with your POS
If you don't want to build a new on-demand delivery app from the ground up, we can help you integrate the third-party delivery app into your existing POS system to handle doorstep deliveries efficiently.
On-demand Delivery App
We develop an on-demand delivery app that allows retail businesses to trade their services or products online. Using the on-demand delivery app, you can help people get on-demand products at the doorstep when they cannot go out amid the COVID-19 outbreak.
We Are a System Integrator for Retail Companies
Point of Sale Software
Point of Sale Software is integrated to automate the capturing of sales and financial transactions of a retail business.
Customer Loyalty Software
Customer Loyalty Software helps retail companies strengthen their relationships with customers by providing customers with freebies or discount offers on achieving sales targets.
Space Management Software
Space management software is used by retail stores to manage product placements efficiently in their stores.
Customer Experience Software
Customer Experience Software is used to gather, organize and track both positive and negative feedback.
How Do We Implement AI in Retail?
AI-driven retailers take advantage of every opportunity to utilize data for analyzing customer behavior and shopping habits across multiple channels. Identifying customer behavior helps align the promotions, personalized interactions and the right product assortment.
Customer Behavior
Using Machine Learning, Retailers can identify critical changes in customers' behavior. They can predict incremental spend potential from existing customers when shopping online, in-store or via a mobile device. Analyzing customer's purchase history, retailers can come up with attractive offers and predict which customers are at risk of churn.
Supply Chain
Determining what type of products and how much product inventory they need to have on hand is one of the biggest challenges faced by retailers. Machine learning and AI can help retailers enhance their ability to identify consumer demand for goods.
Operational Efficiencies
Using AI and Machine Learning, retailers can get insights about the sales revenue that can help them decide where to open new stores and how to predict the right amount of staffing resources required to run the store environment and retail distribution efficiently.
Product Assortment
Retailers use AI and Machine Learning models to identify what products should be stored in which store, what items are being returned frequently and what items to be replaced with new products. We help retailers gather all these insights that can boost their revenue and drive more customers to their business.
Intelligent Freight Tracking System: Realtime Visibility of trucks using AI and IoT
iTrackFreight allows end to end tracking solutions to ease the process of freight pickup and delivery. The platform will enable shippers, drivers, carriers and brokers to have accurate visibility. The platform uses predictive analytics based on various internal and external factors and determines more real-time ETA. A combination of web portals, administrator management systems, driver apps and 3rd party data makes iTrackFreight System flexible for use.
LeewayHertz was flexible in adding smaller features along the way. We found something that might be useful to add to the app, and they responded and acted quickly. Their process worked well.
Leewayhertz knows its craft and the teams are experts at iPhone and Android app development. They're highly focused and they delivered what they proposed.
Dedicated Development Team
Our blockchain developers are hands-on the cognitive technologies to deliver high-quality services and solutions to clients.
Team Extension
Our team extension model is intended to help clients who want to extend their team with the right expertise required for their project.
Project-based Model
Our project-based model and software development specialists are there for customer collaboration and specific client project engagement.
1. Contact Us
Fill out the contact form protected by NDA, book a calendar and schedule a Zoom Meeting with our experts.
2. Get a Consultation
Get on a call with our team to know the feasibility of your project idea.
3. Get a Cost Estimate
Based on the project requirements, we share a project proposal with budget and timeline estimates.
4. Project Kickoff
Once the project is signed, we bring together a team from a range of disciplines to kick start your project.
Start a conversation by filling the form
Once you let us know your requirement, our Retail Software Development expert will schedule a call and discuss your idea in detail post sign of an NDA.
All information will be kept confidential.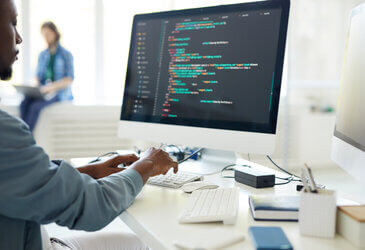 Serverless Architecture is a software design model where a third-party service hosts applications and removes the need for server hardware and software management.
read more